See also…
Part 3 – Building the New Media Server
The Components…
Reused Components (from original machine I built in '04 or '05 as well as parts scavenged from here and there)
Ahanix D-Vine ATX / micro-ATX HTPC chassis (no longer made)
Samsung HD44780 VFD 16×2 (front panel LCD display)
Sony SATA DVD / CD burner (traded out on another machine for the original Sony IDE DVD drive that was in the old media server)
Logitech wireless USB keyboard & mouse
New Components
ASUS M4A78LTM motherboard (on board ATI Radeon™ HD 3000 VGA/HDMI/DVI ports) (on board VIA VT1708S 8-Channel High Definition Audio)
AMD Athlon II X2 3.0GHz microprocessor
Kingston 2GB  DDR3 RAM
Western Digital Caviar Black 1TB SATA 3.0Gb/s
Hauppauge HVR-1600 (model 1199) dual tuner (HDTV tuner) (NTSC analog tuner)
Diablotek 380W Micro ATX power supply
Isn't it fun when Santa (the UPS guy) brings you stuff in August???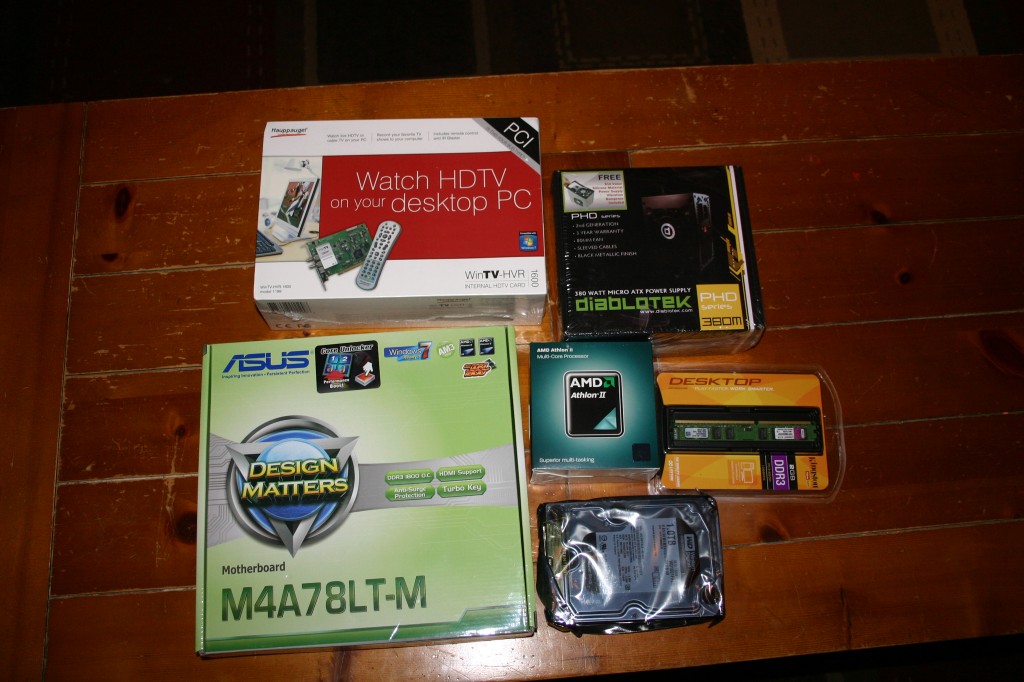 Have tools, will build…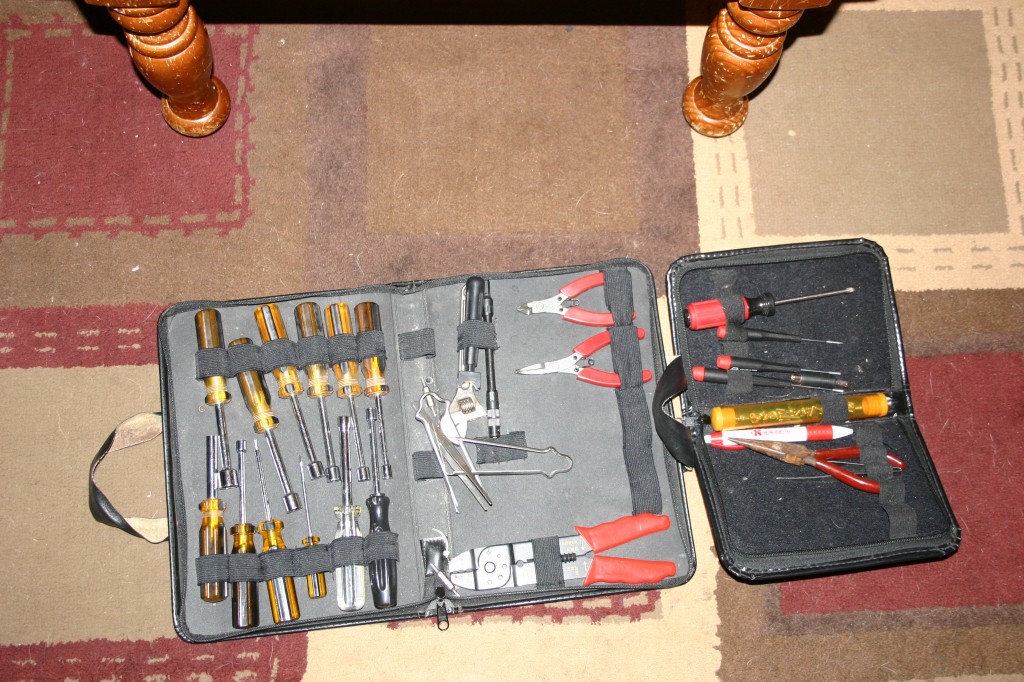 Below, the right drive cage containing the DVD drive and the 3.5″ multi-card reader has been installed into the chassis.  To the left front (just out of the picture) is the LCD display card.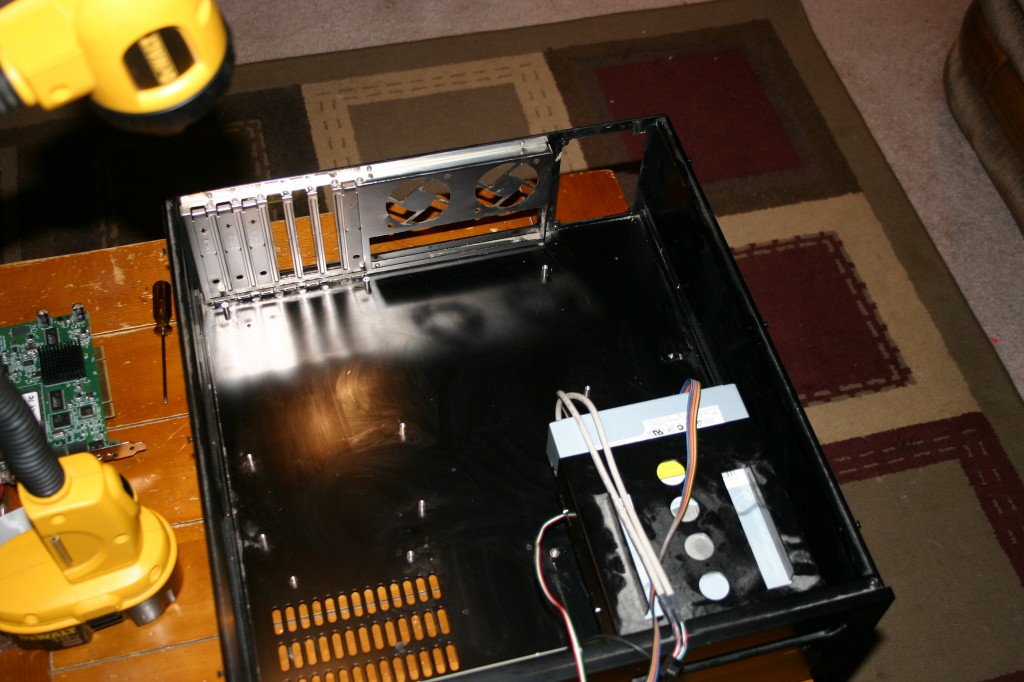 Next step is to install the processor, heat sink, processor fan and RAM into the motherboard…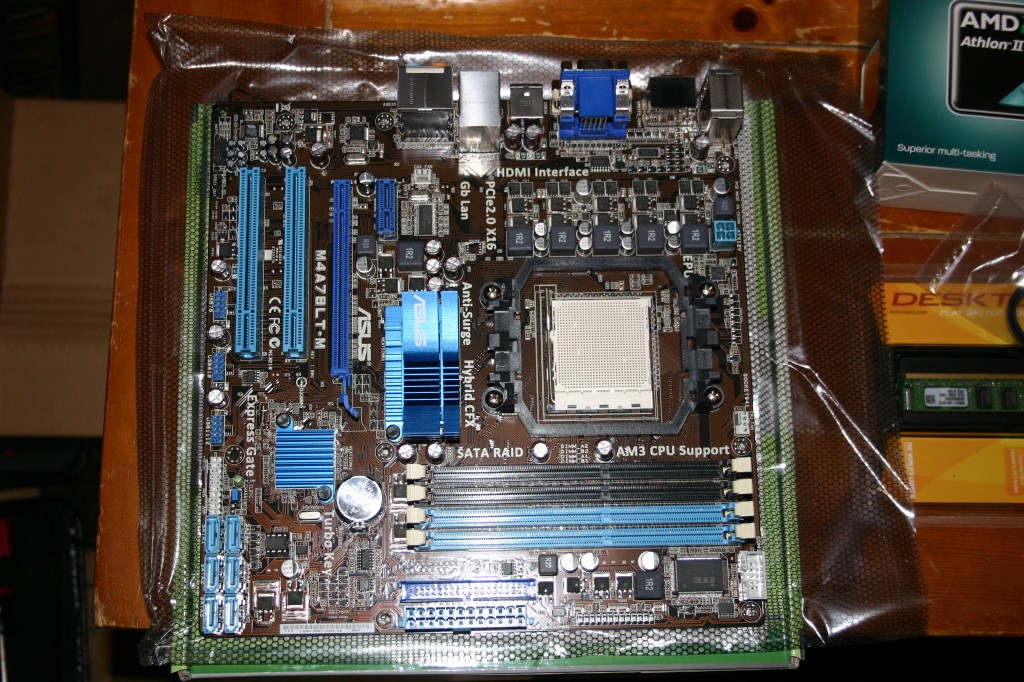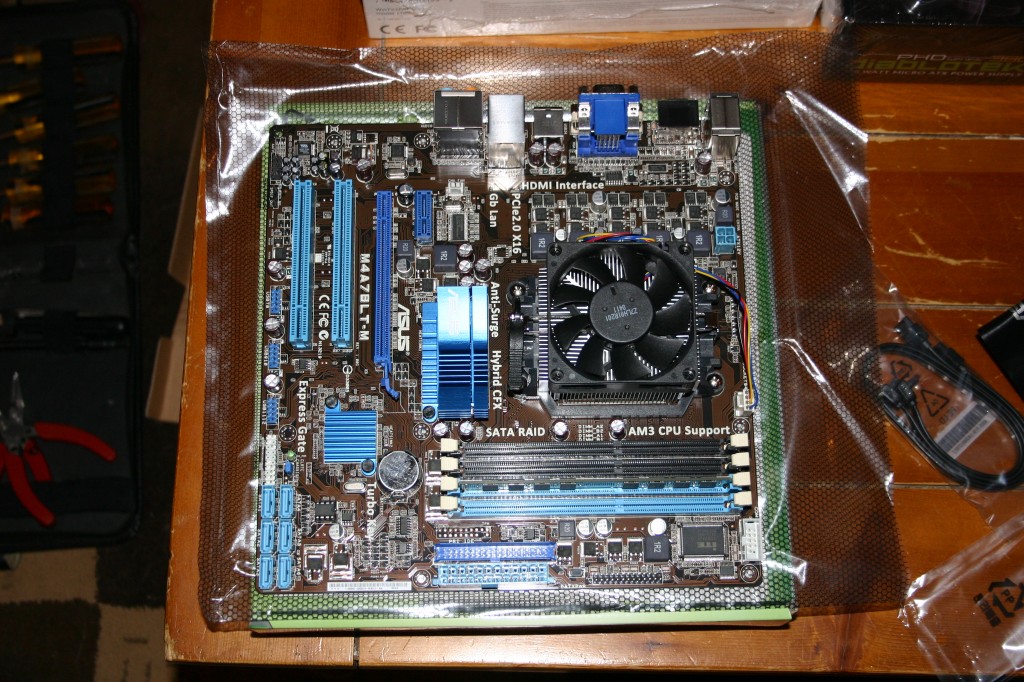 Now install it into the chassis.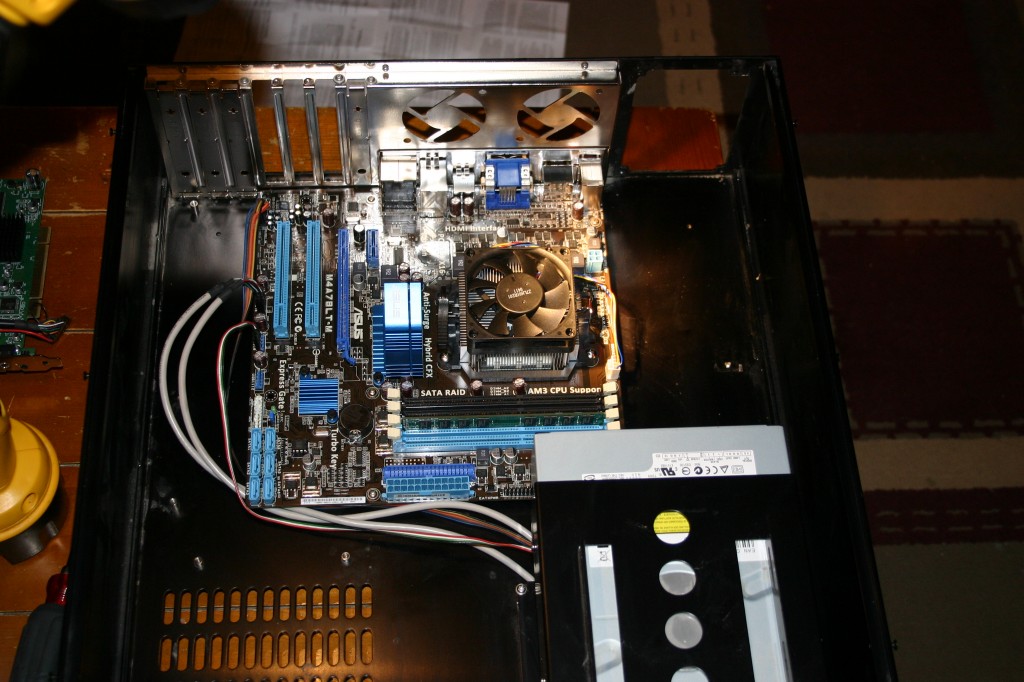 Now time for the left drive cage (containing the 1 TB hard drive) to be installed just behind the LCD card.  Also installed at this point is the HDTV tuner, the system power supply and cable connections to the front panel audio inputs, front panel USB connections and card reader.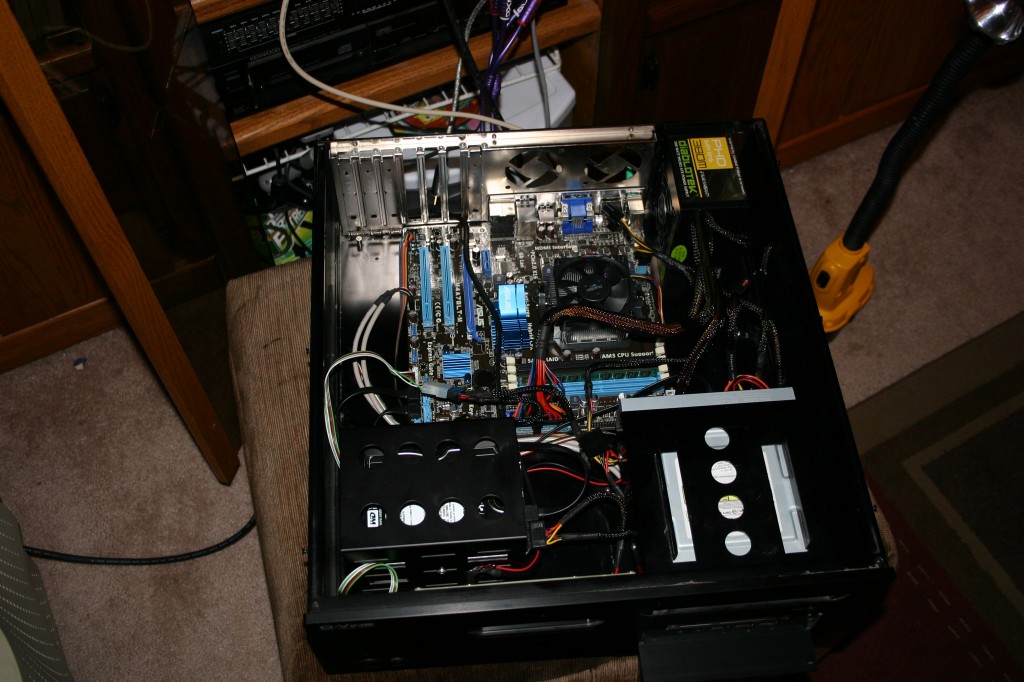 I booted it up before securing the top cover and checked to verify and configure the BIOS making sure the system recognized all of the basic components.  Then after connecting the LCD (my device is an older parallel port device (HD44780) rather than a USB interface, which will give me great grief in the days to come – but that's the subject of the next blog post (part 4 – software configuration)), I installed the cover and slid my new media server onto it's shelf in the AV rack of the entertainment center.
The photos below are after many days of working in my free time on configuring this machine.  It took considerable effort and a lot of research.  As of this writing, I am still dealing with some nuisance problems, but all in all she is up and running…
(I really should have dusted under the stereo receiver before taking this photograph)
The photo below shows mediafurnace running MythMusic (MythTV 0.24.1) with the Arclight 1.0 theme and a high def. desktop image from Interfacelift in HD (1080i) on my RCA 48″ HDTV.  Listening to some 'Pink Floyd' as I write this blog post.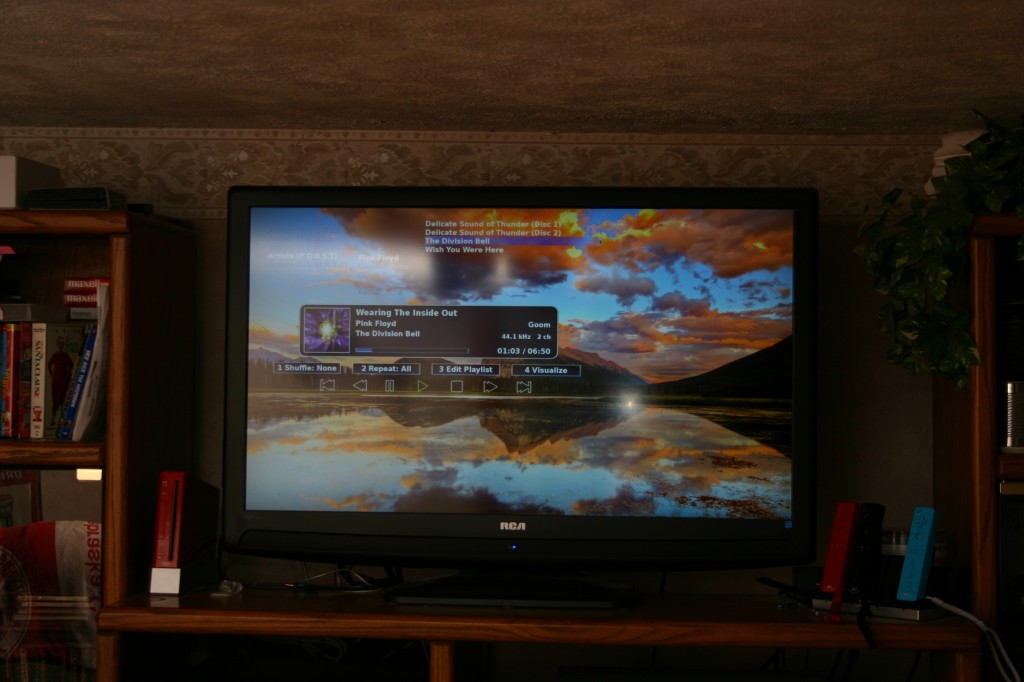 Check back in a few days, as I will try and carefully document the software and driver configuration (assembling the hardware was the easy part)…